Compiled by Kevin Coughlin and Katrina Langer
You really do need a scorecard to keep up with this weekend's activities in Greater Morristown. And here it is!
Autum will be welcomed with peace trains and church celebrations and alfrescos at the farm. You can gamble. Beethoven will reverberate through the Kellogg Club, thanks to Morristown's newest maestro. Root for Roller Derby. Savor organic eats.
The list goes on, and so should you–to the entries below, and to our handy calendar, for even more fun options.
---
THURSDAY, SEPT. 19, 2013:
There is more than meets the eye in artist David John Rush's work. "When working from life, you have to inject life," he maintains. This idea blossoms in Mindscapes, an exhibition opening at the Mt. Kemble Gallery at the Atlantic Rehabilitation Institute this week. Stop by the gallery, on 95 Mt. Kemble Ave. in Morristown, from now through the end of October to enjoy David's work. The exhibit is sponsored by the Women's Association of Morristown Medical Center, and admission is free.
We've all wondered about our family history — but how far back can you go? Learn how to conduct your own
genealogy research
 with the help of the North Jersey History and Genealogy Center. The program will offer introductory tips and tricks, and an overview on how to use the special collections at the History Center. The workshop begins at 7 pm at the
Morristown & Township Library
. Space is limited, so register with
njhgc@jfpl.org
or call (973) 538-3473. 
---
FRIDAY, SEPT. 20:
Morristown High School took a thumping from Roxbury last year; the Colonials will attempt to settle the score in Roxbury at 7 pm.
Mara Levine and Caroline Cutroneo bring their vibrant harmonies and rich mix of traditional folk and contemporary blues to The Minstrel in Morris Township.  Even better, the two will be joined by Ian Hicks, the 14-year-old who dazzled The Minstrel in his first performance last year. The show starts at 8 pm; admission is $8 for adults; children 12 and under are free. At the Morristown Unitarian Fellowship, 21 Normandy Heights Road.
---
SATURDAY, SEPT. 21:
That bicycle collecting dust (not rust!) in your garage could make a world of difference in the developing world. Morristown High School's Interact Club will be collecting used bikes to send to Ghana, Albania, Costa Rica and Guatemala. It's part of a program called Pedals for Progress.  The collection runs from noon to 3 pm at the high school, at 50 Early St, rain or shine. Bikes should be rust-free; it's okay if they have flat tires and need minor repairs. No tricycles, please. Portable sewing machines in good working condition also are being rounded up. You also will be asked for a $10 donation for each item, for shipping.  The donations and the items are tax-deductible. For more details, call teacher Danielle Firavanti at 973-292-2300 or Pedals for Progress at 908-638-4811.
Gather on the lawn at St. Peter's Episcopal Church on South Street at 1 pm to mark the International Day of Peace by marching to the Morristown Green with plywood "Peace Train" cars painted by children and youth at local churches. A short prayer service for peace will be held at the green. All are welcome. For more information about this inter-generational, ecumenical community event, contact Sharon Hausman at sharon@sharonsheridan.com.
Morristown mystery writer S.W. Hubbard will discuss her most recent mystery novel, Another Man's Treasure, at the Library of the Chathams  at 2 p.m.  Set in the fictional town of Palmyrton, NJ, the novel features a plucky heroine who stumbles into murder and political intrigue in the course of her work as an estate sale organizer. USAToday.com gave Another Man's Treasure a 5-star rating. "Question follows question, clue follows clue, and the breathless reader can scarcely keep up with all the twists and turns in Audrey's life once this story's wheels start turning." The library is at 214 Main St. in Chatham. Call 973-635-0603 for more.
 Two summers ago, Morristown's Bethel A.M.E. Church was a scene of lamentations. Tropical Storm Irene pushed the Whippany River over its banks and into the church basement, causing immense damage. Lacking flood insurance, the church seemed dead in the water. But the community and compassionate benefactors came to the rescue. At 3:30 pm, Bethel's congregation will dedicate its new kitchen, and give thanks to all who made it possible. The church is at Spring Street and Bishop Nazrey Way.
Alfresco at the Farm, the annual fundraiser for Grow It Green Morristown, starts at 5 pm at the Urban Farm at Lafayette, at 31 Hazel St. Grow It Green has plenty to celebrate this year: The farm has expanded, schoolchildren planted most of it, and it's provided a half-ton of produce for area soup kitchens and food pantries. And the Early Street Community Garden, another GiG project, was spared from development thanks to a partnership with the town. The celebration will include appetizers made with Urban Farm produce, plus pizza from Millie's Old World Pizza,  desserts from the Artist Baker and Strawberry Fields,  and coffee and tea from SmartWorld. There will be a deejay, too, and live music by Catbird, along with a silent auction and face painting for kids. For the first time, in fact, this event is designed for the whole family. The price has been cut in half to $40 for adults and $20 for kids; children 4 and under eat for free.
You have heard Beethoven, but never like this.  Argentine maestro Sebastián Forster, who recently moved to Morristown, will perform the Appassionata in the elegant, intimate atmosphere of the Kellogg Club, in a benefit for the Macculloch Hall Historical Society. The salon starts at 6 pm and also features wine, hors d'oeuvres and a silent auction. Tickets are $125 and $200.  Listen to our podcast with Sebastián, who explains the fascinating story behind his epic recordings of all 32 Beethoven piano sonatas.
Morristown's Corporal Punishers plan to give the Atlantic Coast Roller Girls a spanking, at Inline Morristown on 38 Dumont Place. Doors open at 6:15 pm, with the first whistle at 7 pm and the first ambulance run shortly thereafter. Tickets are $10 in advance, $12 at the door; children under 12 are free.
You don't want to gamble your soul. But your money, for church purposes, seems like a safe bet.  At least, that's the view at St. Peter's Episcopal Church, where a Casino Royale evening runs from 6:30 to 10 pm. For an admission price of $50, you can play Black Jack, Roulette, Craps and Texas Hold'em Poker (with professional dealers). It's a benefit for St. Peter's Vestry and admission includes $50 in play money for games, four  Tricky Tray tickets, food and drinks. A high roller silent auction will feature Yankees, Jets and Giants tickets, autographed memorabilia, a large screen television and more. Tickets for a 50/50 raffle will cost $5 apiece or five for $20. The church is at the corner of South Street and Miller Road in Morristown. For more details, call 973-538-0555 x 10.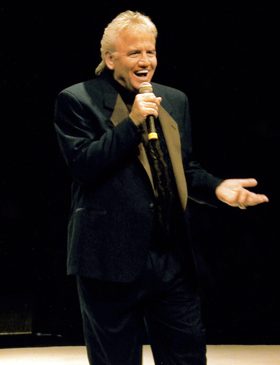 The buoyant band We're About 9  will perform in a special Sanctuary series concert at 8 pm in the Stanley Congregational Church, near downtown Chatham, at 94 Fairmount Ave. Tickets are $15 for the show / $25 for the show plus the band's new CD. Band members Brian Gundersdorf and Katie Graybeal just got hitched, and all ticket proceeds will go to them and the band's new CD project. Promoter Scott Sheldon promises special guests, and cake, too.

American Original Jay Black comes to the Mayo Performing Arts Center at 8 pm with hits like Only in America and This Magic Moment. Tickets are $39-$69; call 973-539-8008 for more details. The theater is at 100 South St. in Morristown.
---
SUNDAY, SEPT. 22:
The Morristown Farmers Market runs every Sunday through Nov. 24 from 8:30 am to 2 pm. It's in municipal parking lot 10, behind the post office, and is operated by the Morristown Partnership.
Central to Christianity is a belief in the divinity of Jesus. But did followers misinterpret his Messianic statements in the decades and centuries after his execution? Religious scholar Reza Aslan, author of the best-seller Zealot:  The Life and Times of Jesus of Nazareth, will share his views at 9:15 am at the Presbyterian Parish House, on 65 South St. in Morristown. The public is welcome.
Immediately following the morning service at the Center for Spiritual Living
Morristown, author, musician, and mystic John Maxwell Taylor will present The Enlightenment Quest and the Art of Happiness.  Taylor's insights into the joys and struggles of staying spiritually conscious in an increasingly chaotic world will entertain and enlighten. From 11 am to 3 pm at 331 Mt. Kemble Ave. The event is free, with a suggested love offering of $20. John is sticking around Monday, too, for a 7 pm presentation called Awake and Ready in the 21st Century. Please call 973-539-3114 for more information.
Sustainable Morristown's third annual Locally Grown Sunday Supper will feature samples prepared by chefs from 17 local establishments, using ingredients from six area farms. You even can sip organic tequila! Throw in music by the Byrdgrass band and a silent auction of food baskets; bicycles; yoga- , glass sculpting- and dinner parties; a day of falconry and a day driving a Tesla Model S — we're just scratching the surface here–and you have all the fixings for a special night.   Tickets are $100/$175. Proceeds benefit Sustainable Morristown. The event runs from 4 pm to 7 pm.