Compiled by Katrina Langer and Kevin Coughlin
Art walks. Vino. Free yoga on the Green.
Joni. Rufus. The entrancing Red Molly.
All this, and so much more, awaits the intrepid bon vivant around Greater Morristown this weekend.
Scroll below for more–and don't forget to check our handy calendar for even additional fun options.
---
THURSDAY, OCT. 3, 2013:
Celtic Thunder, the powerhouse vocal quintet you've seen on PBS, brings its powerful Irish ballads to the Mayo Performing Arts Center at 7:30 pm. Tickets are $59-$99; 100 South St., Morristown. Call 973-539-8008 for more.
---
FRIDAY, OCT. 4:
How much do you know about fracking? Fill in the gaps with help from a group of panelists put together by Community Earth and Food & Water Watch. Panelists including activist and whistle blower, Ray Kemble; activist Craig Stevens; and a group of environmental and legal experts. The interactive forum is free and will include information on what fracking is and the impact of Pennsylvania fracking on New Jersey. The event will be held at the Unity Charter School at 1 Evergreen Place, Morris Township, from 6:30 to 9 pm.
Chicks with Dip are this weekend's special guests at The Minstrel. The all-woman's performing cooperative will present Joni Mitchell's iconic Blue album in sequence. For this Folk Project Special concert, tickets are $15 in advance or $20 at the door; advance tickets are available until midnight on Thursday at folkproject.org. As always, the Folk Project begins at 8 pm at the Morristown Unitarian Fellowship at 21 Normandy Heights Road in Morris Township.
The Mayo Performing Arts Center presents Christian superstar and Grammy winner 
Michael W. Smith
 at 8 pm at 100 South St., Morristown. Tickets are $49-$69. Call 973-539-8008.
Universal Rebel
performs at the Dublin Pub, at 4 Pine St. in Morristown, from 9 pm "until the dancing stops."
---
SATURDAY, OCT. 5:
The Garden State Wine Growers Association celebrates the annual Grand Harvest Wine Festival from noon to 5 pm on Saturday and Sunday at Fosterfields Historical Living Farm in Morris Township. Sampling is $25 a person, and tickets can be purchased at the admission tent beginning at 11:30 am. For ages 21 and over, don't forget your ID! Two day passes can be purchased for $40. Those not drinking and those under 21 are free. Saturday's musical entertainment is SteppingStone.
Red Molly, 
a high-spirited trio known for soaring harmonies, virtuoso musicianship, and warmly wicked wisecracks, comes to the
Sanctuary series
in Chatham at 8 pm.  They will share the stage with another harmony-rich trio,
Brother Sun
, made up of veteran touring songwriters Greg Greenway, Pat Wictor, and Joe Jencks.   Tickets are $25. At the Presbyterian Church, 240 Southern Blvd.
Red Molly comes to the Sanctuary on Saturday.
The Dicey Riley Band and Friends present a benefit concert for Surgical Efforts in Sierra Leone, West Africa. Featuring traditional Irish and Celtic song, the Randolph Orchestras, and the Randolph Chamber Choir. The show begins at 8 pm at Assumption Church at 91 Maple Ave. in Morristown. Refreshments will be provided by parishioners and The Main Event by Melody. There is no admission charge, but a suggested entry donation of $10 will go directly to funds for surgical care for farmers and villagers in Sierra Leone. Call 973-539-2141 for more information.
The Mayo Performing Arts Center presents 
An Evening with Jason Alexander and His Hair.
Alexander's one-man show features stand-up comedy, music, improvisation, and audience participation. Admission is $59-$99, and the show starts at 8 pm. Call 973-539-8008 to learn more.
---
SUNDAY, OCT. 6:
The Morristown Farmers Market runs every Sunday through Nov. 24 from 8:30 am to 2 pm. It's in municipal parking lot 10, behind the post office, and is operated by the Morristown Partnership.
Morristown's second annual Art Walk features more than 70 artists, from Noon to 5 pm.  Maps will be available at all locations hosting artists and locations will be clearly marked with balloons and signs. Contact Julie Friedman at ArtSpace Studio at 201-819-0371 for more information.
Be Well and Yoga Morristown present the first annual Wellness: Mo-Town!, on the Morristown Green from noon to 4 pm. Featuring live music from 13hands, and four hours of free yoga classes — including a short class for kids beginning at 12:10.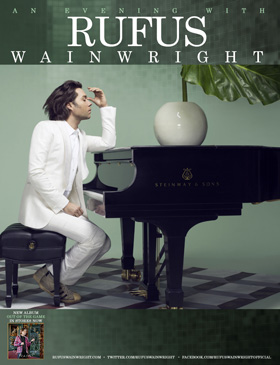 Rufus Wainwright
has been called "the greatest songwriter on the planet" by Elton John. He takes the stage at
The Mayo Performing Arts Center
in Morristown at 7:30 pm, tickets are $39-$59. Call 973-539-8008 to learn more.
Repost This Article
Follow @morristowngreen